About the Author
This page will tell you all about me, and pretty damn fascinating stuff it is!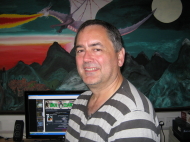 35 years experience in the Telecommunications Industry, mostly with major players, in an Engineering Support role on large / complex networks using a mix of technologies. More recently solely on TCP/IP based networks utilising Juniper (JunOS and Space, T1600, MX-960, M40e, Steel-Belted RADIUS), and Cisco (CatOS, IOS, 4000, 6500, 7200. ACE, ASA, WCS, Works, TACACS+) , and Nortel technologies, running MPLS, BGP, ISIS, OSPF. Also familiar with EMC SMARTS, Porttracker, Alcatel Lucent Vital-QIP. Previously with Avaya (Nortel – 8600, 5520, ASN, AN), Checkpoint firewalls, Packeteer, WebSense. Security Cleared by Home Office, HOX/003342 expires 28/09/2015.
Currently:
Everything Everywhere (after Orange PCS & T-Mobile merger) – Senior IP Technologies Network Support Engineer 2005 – 2012. 20 million public users, 18,000 internal users, 1,200+ network devices, 2 large Data Centres.
Responsibilities:
Project Implementation – Design Review, Accept/Reject, Implement, and Support new Projects from the Network perspective.
Support – Day to day support of WAN and LAN. Investigating and resolving network issues to relevant SLA deadlines. Arranging and fitting replacement parts, raising support cases with vendors, Cisco, Juniper, Huawei, Accumuli. Amend DNS system where necessary. Liaise with Users, Server Admin, Application Support to achieve a timely resolution.
Achievements:
Project implementation - Replacement/upgrade of entire internal Call Centre Virtual Telephone system.
Project implementation - Upgrade and replacement of entire 2G infrastructure whilst merging with T-Mobile network.
Project implementation - Join Orange UK and T-Mobile UK networks.
Project implementation - CatOS upgrade of all devices in network.
Design and Implementation of TACACS+ system across whole network.
Implementation of Juniper Space NMS platform.
Resurrection and implementation of Cisco Works NMS platform.
Ressurection of EMC SMARTS NMS system.
Acquisistion and build of 2 new team servers – used for secure jumpoff, data storage, script execution, etc.
Upgrade and customisation of Juniper Steel Belted RADIUS system.
Replacement and resurrection of Team Display server with various monitoring systems.
Previously:
Wincanton Logistics – Principal Network and Security Support Engineer 1995 – 2005. 12,000 users, numerous automated warehouses, 120+ sites nationally, 500+ network devices.
Responsibilities:
Design, Specification, Implementation, Support of network and firewalls.
Achievements:
Design and Implementation of new Corporate Headquarters User network and Data Centre network.
British Telecom – Technical Officer 1976 – 1995
Various duties throught career:
Strowger telephony equipment support. Various MUX systems support. Repair to component level of various computerised and Radio systems. Radio Interference duties. HF Global Radio systems support. Customised alarm system Design and deployment. Call centre and support systems support.